EXCLUSIVE: Fantastic Beast Photo Leak Showcases Designs Inspired By Hitler's Personal Architect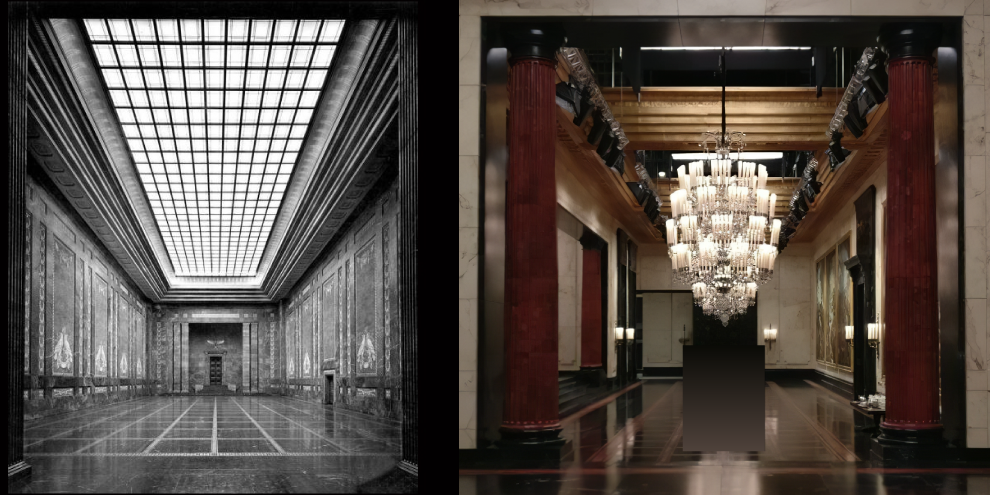 It may take another 400+ days before returning to the Wizarding World via a new Fantastic beasts film, but today a leaked photo claiming to be from inside Berlin's Ministry of Magic is helping quench the thirst of many enthusiastic fans.
MuggleNet can only confirm that the building is German. The piece in the leaked photo is most likely part of the Magic Ministry building's magical overlay, similar to the Woolworth building from the first film.
Through our own sources, we have learned that the work of Hitler's personal architect Albert Speer inspired the designs seen in the leaked photo. Speer joined the Nazi Party in 1931 and quickly rose through the ranks to a place in Hitler's inner circle. There he was tasked with overseeing renovations to the Reich Chancellery, also known as the German Chancellor's Office, where the interior closely resembles the leaked photograph.
Since Fantastic beasts As the series was announced and fans discovered that Grindelwald was going to be involved, it was widely believed that the final film portrayed the legendary 1945 battle between Gellert and Albus. The move to Germany in the third film, which we confirmed exclusively in September 2020, once again confirms this belief.
EXCLUSIVE: #FantasticBeasts 3 started principal photography LAST WEEK. Jude Law was on set, along with other key talents.

The photographs of the Leavesden backlot which have been circulated are in Berlin.

ION: Robert Pattinson is doing very well, filming will begin at the end of next week.

– MuggleNet: # 1 resource in the wizarding world since 1999 (@MuggleNet) September 11, 2020
What do you think this means for our magic quartet? Let us know in the comments below or on our social media, @mugglenet.
As we are not inclined to upload Nazi photographs to our website, nor links to bullies, we will not include the leaked photo or images of Speer's work in this report. Google is your friend.
Want more posts like this? MuggleNet is 99% run by volunteers, and we need your help. With your monthly $ 1 pledge, you can interact with the creators, suggest ideas for future items, and participate in exclusive promotional giveaways!
Support us on Patreon