Taneycomo Festival Orchestra Holds Concert, Art in the Park | Editorials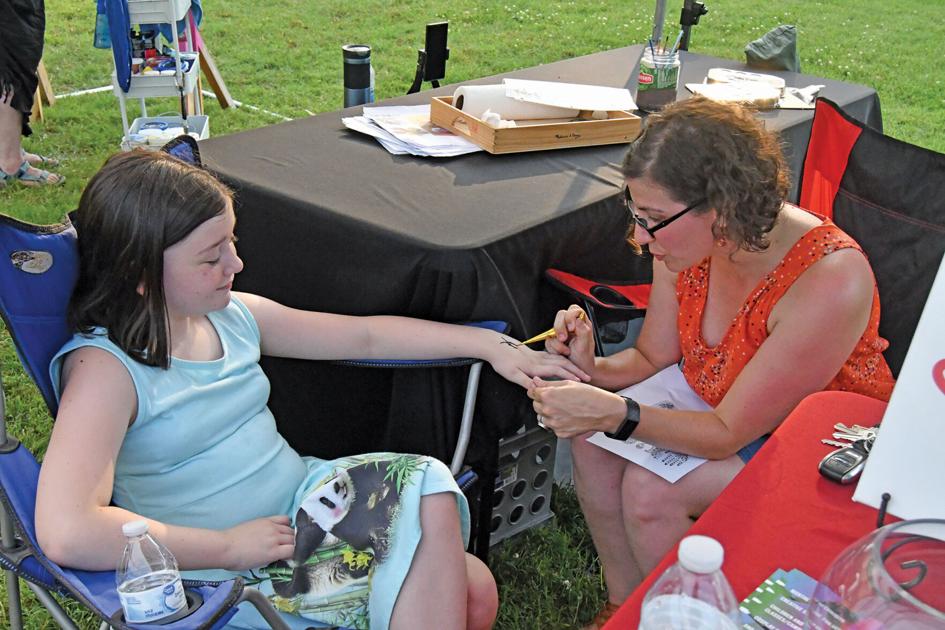 On June 18th, I attended the Taneycomo Arts Picnic and the Taneycomo Festival Orchestra's 10th Season Principal Orchestra in Hollister. I took Alexis, my 9 year old stepdaughter, with me.
We arrived a few hours after the event opened, hoping to get there when the day starts to cool down a bit. The orchestra was still settling in, but the art booths were open for business.
With a child in tow, it's no surprise that our first stop was the makeup / henna booth which was sponsored by artists from Southwest Missouri Arts Connection and Technicolor Tattoo. Alexis had won $ 5 to spend at the festival, which of course she left at home. As a parent, have you ever noticed how often this happens?
After negotiating with Alexis about how she could earn the money I was about to spend on her when we got home, she decided to start her artistic picnic experience with some henna. butterfly on his hand. She was delighted with his body art, although she struggled not to touch it or accidentally wipe it off her dress.
We then decided to go see all the art stands at the edge of the park. As an artist myself, I love to see what other artists create, how they create their work and the passion they have for the arts. I had the opportunity to see several old friends and had fun visiting them.
Alexis loved to see all kinds of art. She found the art of the gourd interesting, as she was fascinated by the fact that someone would take fruit and make sculptures of it.
The sun was beating down on us, so we decided to head over to Brian's Brain Freeze food truck to cool off. As we approached the truck, Alexis flipped through the menu and was immediately drawn to her favorite flavor, the birthday cake. We were told they could create a custom ice cream gel under birthday-tasting crushed ice topped with whipped cream, sprinkles, and cherries. His eyes got bigger and bigger as it was described, so we ordered one from him.
The personalized birthday cake gel was bigger than I expected, and Alexis loved it.
By the time we had their cold sweet treat, the orchestra was ready to begin, and we found a good place for me to stream the first part of the performance live for the Branson Tri-Lakes News Facebook page.
Alexis had never been able to see an orchestra perform in person, although since we started teaching it at home last year, she has had the opportunity to listen to several different types of music, including the classic. She had a lot of questions about the types of instruments and what was going to start. I took a few moments to answer his questions to teach him a little classical music.
As the music began, Alexis stood there in silent admiration, listening intently to the music. Finding something that forces her to shut up isn't something that happens often, but here she was just listening to the music.
We listened to the first half of the program. At the end, Alexis asked her if she could get her face makeup done. We went back to the booth, paid the small fee, and she told artist Christine Riutzel that she wanted a fire and ice painting.
We decided to call it a little early night, but we both had so much fun. I loved being able to take Alexis with me to this fun, art-driven event. We had a great girls night out and I think she now has a new appreciation for classical music.
For those who are interested, the Taneycomo Festival Orchestra has three more performances scheduled at 7:30 p.m. June 23-25 ​​at Chad A. Fuqua Memorial Park in Hollister.